Neu und eine Top-Attraktion als eigenständiges Freizeitangebot oder in Kombination mit bestehenden Angeboten. Das ADVENTURE CLIMBING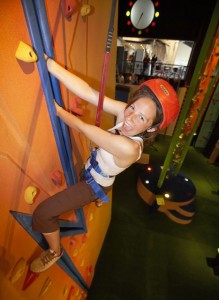 Die mit automatischen Seilsicherungen versehenen Kletterwände sind außergewöhnlich und machen richtig Spaß. Ein Highlight ist die durchsichtige, beidseitig bekletterbare Version oder der "Jump-Tower"
einzigartige Optik mit hohem Viral-Marketing Effekt
Ausweitung der Öffnungszeiten und Steigerung der Umsätze
geringer Flächenbedarf
erweiterbar
geringer Personalaufwand
einzeln oder in Kombination realisierbar
Erweitern Sie Ihr Angebot zu einem Entertainment- Center. Gewinnen Sie neue Kundengruppen wie etwa Event- und Incentive-Kunden. Konzept und Angebotserstellung: R.I.S.E Consult + Indoor-Entertainment
For english textversion please click on "read more".
Adventure Climbing (EN)
This new kind of attraction is very famous as solitair attraction or as part of an entertainment-center. It offers a large selection of different kind of climbing attractions all equipped with automatic rope systems so that there are only a few team members needed to operate this amazing entertainment opportunity.
stunning Design
small footprint
lots of options
less manpower
great for events, incentives and birthday parties
Please get in contact with Indoor-Entertainment by E-Mail: info@indoor-entertainment.com or call Dirk at +49 171 1 986 986 to receive all information.